Barcelona, the capital of the Autonomous Community of Catalonia, was founded on the Mediterranean coast, between two rivers, over 2,000 years ago. It is located in the north-east of the Iberian Peninsula, just a short distance from France. Since then, it has been the traditional gateway to Spain. Through it entered Romans, Arabs and Christians, as well as the many diverse cultures, which came to enrich its heritage. The traces of this history and diversity can be followed as you walk through the city; through its Gothic Quarter, built on the Roman ruins; through its art-nouveau Eixample district, presided over by Gaudí's exuberant architecture, which at the same time reveals an ordered and rational urban layout. This diversity and harmony are also apparent in the character of the people of Barcelona, who are enterprising and hard-working, enjoy life and, in particular, have great civic pride and are lovers of culture.


These characteristics have made Barcelona into a first-class tourist destination and the ideal setting for meetings and congresses. In just over two decades, Barcelona has completely transformed its range of facilities and attractions. It has done so by displaying a dynamic character and pioneering spirit, which are perfectly visible in its new urban and architectural layout. The city continues to enjoy spring-like climatic conditions, and offers the visitor its own unique lifestyle, which is particularly evocative and appealing. It perfectly combines the gentleness of the Mediterranean coast with the thrust and capacity for innovation of a young society. It is a unique combination on the European continent; a privileged geographical enclave whose inquiring yet serene population is already enjoying the Mediterranean metropolis of the 21st century.


Why Barcelona?
Welcoming
Barcelona is a compact city, neither too small nor too big, which makes it very welcoming and gives it a cosy atmosphere. As well, it boasts significant cultural, social and commercial diversity.

| | |
| --- | --- |
| Mediterranean | Barcelona displays the characteristics of Mediterranean cities: it is dynamic and open, inviting for leisure activities, walking through and enjoying. It is the only large city in Europe that boasts 5 kilometres of beaches in the city itself. Barcelona enjoys a very agreeable and mild climate all yearlong, which makes it possible to organize outdoor events in spring, summer and autumn. |
Historical and Cultural
Barcelona has over 2000 years of history and conserves important testimonies of its past. Barcelona offers a very intense cultural life all yearlong: Opera, Ballet, Concert, Theatres, festivals, expositions, museums...
| | |
| --- | --- |
| Avant Garde | Catalonia has always been played host to famous people in the Avant Garde movements in Europe: Picasso, Miró, Dalí, Gaudi are just some of the many examples of the constant desire for renovation and creation, a true quality that is also present in today's Catalan artists like its architects or designers. |

Transportation and Accessibility
By Air: Barcelona, the heart of southern Europe, is located in the northeast of Spain and has great land, sea and air communication. Barcelona-El Prat international airport has the second highest volume of air traffic of all Spanish airports. It has two large passenger terminals, T1 and T2, from where around ahundred airlines offer direct flights all over Europe. Intercontinental flights usually stop over Madrid or other European capitals but there are also direct connections with various cities round the world. There are also two smaller airports near Barcelona: Girona-Costa Brava and Reus.

By Sea: Barcelona has the largest cruise ship port in the Mediterranean basin, with seven terminals. It also has nine passenger terminals and four ferry terminals. It links to the Balearic Islands and the main Mediterranean ports. Along the city's coastline are also four marinas with everything you need for mooring private boats.

By Train: Barcelona has rail links with various places in Europe and all of Spain.
The AVE high-speed network also connects Barcelona with the French cities of Paris, Lyon, Toulouse and Marseilles, as well as Madrid and the south of Spain. And the suburban train networks link the Catalan capital with the main Catalan towns and cities.

By Bus: You can easily get to Barcelona by bus from anywhere in Europe, North Africa and the rest of Spain. Barcelona Nord is the city's main bus station, with national and international connections, but buses also go to Barcelona Sants and elsewhere in the city.

By Car: Barcelona has an extensive road and motorway network linking it to Catalonia and the rest of Spain. The border with France is only 150 kilometres away. It is also possible to travel by car to North Africa via Algeciras, where you have to take a ferry. You can get into the city from the two ring roads, the Ronda del Litoral and the Ronda de Dalt, or take the Avinguda Meridiana right into the centre. If you are coming from the rest of Spain and approaching from the south, take the AP-7 or C-32.

By Public Transport: Barcelona has an excellent public transport system: eight metro lines interconnect all the city's districts and part of the metropolitan area, two tram lines cross the city from north to south, a large fleet of buses reach every corner of the city, and local trains complement the metro network. Furthermore, the city's public transport uses an integrated-fare system, which allows you to use various means of transport with just one ticket.

On foot: Thanks to its Mediterranean climate, Barcelona is a place where people can enjoy the outdoors all year. And the city is also accessible on foot: there are sizeable pedestrian areas in every district that are ideal for a stroll, where you can let your curiosity lead you to new discoveries. And if you want to get the most out of your walk, you can always follow one of the itineraries that cover the city's emblematic places, or just soak up the charm.

By Bicycle: Clean and sustainable, bicycles are a fantastic alternative for moving around a city that provides optimum conditions for cyclists, with a network of nearly 200 kms of bicycle lanes, connecting the city from north to south and from east to west. There are various bicycle-hire companies operating in Barcelona and organized tours are available as well. Outside the city center, there is also the chance to try mountain biking, both in Collserola Park and on Montjuïc.
By taxi, using ecological vehicles or alternative transport, there are a thousand ways to get around the city. Barcelona also has several unique forms of transport, traditional and modern, that offer a really original view of the city: cable car takes people to the top of the mountain from the port while the Tramvia Blau, or Blue Tram, which goes up to Tibidabo, is the oldest tram in Barcelona, and the Golondrina pleasure boats are a traditional attraction that give you a view of the seafront from the sea.


Public Transportation within the city
Public Transportation: The city has a convenient and efficient public transport network (buses, metro and suburban rail)

Metro
Barcelona currently has six metro lines covering a total of 87 kilometers and passing through 123 stations.

Ferrocarrils de la Generalitat-FGC
The Ferrocarrils de la Generalitat-FGC, run by the Catalan government, supplements the metro network with a city railway network.

Tram
Barcelona tramway system, known as the Tram, was relaunched in 2004. This means of transport, which was abolished in 1971, is now an accessible, environmentally friendly, fast and comfortable system. It consists of two sections; the Diagonal Baix Llobregat and the Ciutadella-Besos

Train
Barcelona has also an extensive network of commuter trains, operated by RENFE the Spanish National Railway Company, which depart from main stations every five or ten minutes. The train'sability provides comfortable and rapid access to the city centre from the outskirts of the city

Central Integrated Railway Network
The Integrated Fare System makes it possible to use the different modes of transport (Underground, bus, tram, FGC and Renfe) in the same journey within the Metropolitan Region

Connections between Barcelona and the Airport:

Aerobús
Daily service between Plaça de Catalunya and Plaça Espanya and the airport.
Frequency: every 10 minutes.
Approximate journey time: 30 minutes.
Single ticket price: 5,90 € ; 10,20€ (return).

Train (RENFE)
Daily connections with the airport from the Renfe (Spanish Rail) stations at Sants and Passeig de Gràcia
Frequency: every 30 minutes
Journey time: 20 minutes (from Sants), 25 minutes (from Passeig de Gràcia)

Bus (TMB)
The 46 bus runs from Pl. d'Espanya to the airport.
Frequency: every 25-35 minutes.
Single ticket price: 2,15 € (integrated fare).

Night bus (NITBUS)
The N17 night bus operates from Pl. Catalunya to the airport, stopping at Pl. d'Espanya.
Frequency: every 20 minutes.
Single ticket price: 2,15 € (integrated fare).

Metro
Line 9
Frequency: every 5-10 minutes.
Single ticket price: 2,15 € (integrated fare).

METRO INTEGRATED FARES SYSTEM

Metro Map

The travel tickets available are the followings:

Single ticket price 2017: 2,15 €

Travel 10-ticket price 2017: 9,95 €
A multi-person travel card allowing 10 journeys to be made on all operators in the Integrated Fare System.

Barcelona travel cards Hola BCN!

Unlimited journeys on metro, bus (TMB) and the rest of Barcelona public transport over 1 (24 h), 2 (48 h), 3 (72 h), 4 (96 h) or 5 (120 h) consecutive days on a single ticket.

1 day Barcelona travel card (48h): 8,40 €
2 day Barcelona travel card (48h): 14,50 €
3 day Barcelona travel card (72h): 21,20 €
4 day Barcelona travel card (96h): 27,50 €
5 day Barcelona travel card (120h): 33,70 €

Accommodation
A big choice for all tastes and budgets

There are a large number of hotels offering a wide variety of options to suite all budgets, ranging from modern functional establishments to older ones with charm, located in some of the city's most iconic buildings.

Hostels are the best option for people who are looking for low-cost accommodation and who want to meet other young travelers. Barcelona also has a wide net of university residences. For who wants to enjoy the city like a local, or with the family, renting an apartment for tourist use (on a daily or weekly basis) is a good option. The apartments are equipped for every-day life and offer every possible convenience.

There are also options for those who would rather stay at a campsite or a country house on the outskirts of the city.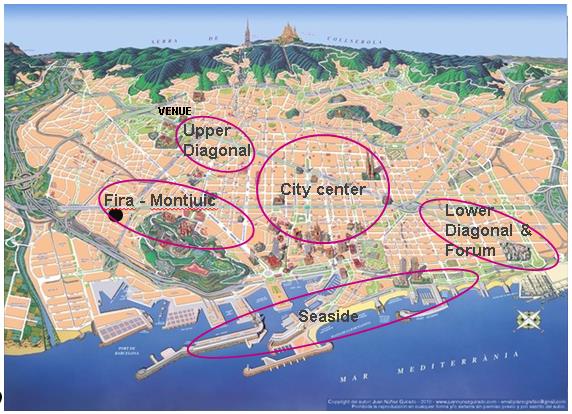 Area Upper Diagonal - UPC-VENUE - 1.660 Rooms

880 rooms in 5* hotels
730 rooms in 4* hotels
50 rooms in 3* hotels
Rooms in total: 9.320